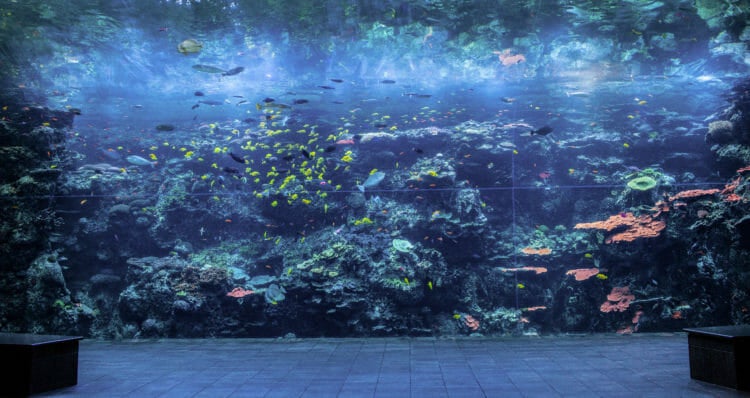 Programs at the Aquarium
Professional Development
This Program is not currently available, please check back for future availability
Exploring the Deep Ocean with NOAA
Saturday, November 16, 2019, 8am - 4pm
Designed for Educators of Grades 6-12
All life on Earth relies on the ocean— yet, the ocean is 95 percent unexplored, unknown and unseen by human eyes… Educators are invited to join NOAA OER staff to learn more about the importance of ocean exploration, current exploration technologies, and recent deep-sea discoveries. This full day Professional Development workshop will introduce standards-based, hands-on activities and other resources that guide classroom teaching and learning. Ocean health, unique underwater habitats, underwater mapping and remotely-operated vehicles are just a few of the topics to be addressed.
Registration is required and space is limited. Educators will receive the NOAA Ship Okeanos Explorer Education Materials Collection Volume 1: Why Do We Explore? and Volume 2: How Do We Explore?, additional resources, a NOAA Ocean Exploration Certificate of Participation, continental breakfast, lunch, admission to the aquarium, parking and a $75 stipend.
If you're previously participated in a Why Do We Explore? or How Do We Explore? Professional Development, this offering will be redundant.
Saturday, January 18, 2020, 9:30am - 3pm
Did you know that whale sharks are the world's largest species of fish? How do you conduct health assessments on a fish that is about the size of a school bus? How do you draw blood on an animal that must keep swimming? Join us for this component of the STEAM Collaborative Series on Project Based Learning. Explore the Ocean Voyager gallery to observe the dynamics of our living collection as you discover what it takes to be a good steward of their care.
Pricing
All Five Sessions: $225
Individual Sessions: $50