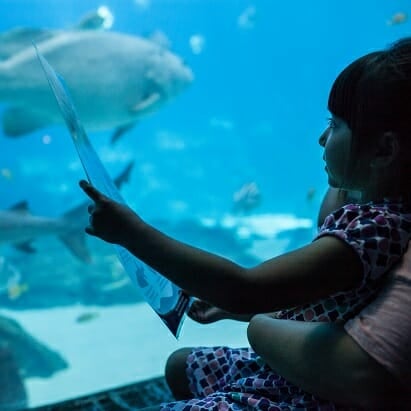 Visit Year Round
Become a Member Today
Did You Know?
Members no longer need reservations to visit!
(Simply present your valid membership card at the Members Entrance for admission.)
Support Us & Get Unlimited Visits
A Georgia Aquarium Membership guarantees you and your family new thrills, adventures and fish-filled fun each time you visit. Members can take advantage of free and discounted admission to special events, discounts on Aquarium programs and more. With all the discounts, membership pays for itself in just two visits — plus you'll get access to member-only events like Member Appreciation Night.
Your membership supports all of the Aquarium's efforts in aquatic animal research and conservation. As a 501(c)3 the Georgia Aquarium relies on the contributions of individuals and corporations to continue all of these important activities.
Already a member but need to renew? Renew now.
Land & Sea Membership Package
Get the Best of Both Worlds
Benefits at Georgia Aquarium include Membership benefits for up to four members of your household.
Benefits at Zoo Atlanta include all annual Membership benefits for up to three adults and up to four children under the age of 18, as well as two single-day admission tickets and a Passport to Adventure for each child in the household.
Fill your year with adventure on land and under the sea with unlimited daytime admission to Zoo Atlanta & Georgia Aquarium.

Find the Package That's Right for You
We have a variety of membership options available, perfect for individuals and families alike.
Individual

Join

Family

Join

Land & Sea

Join

Anchor Society

Join
Cost
tax deductible**
tax deductible**
tax deductible**
$750+tax deductible**
Included Memberships
1
up to 4
up to 4
up to 6
Members-only Discounts & Events
2 Free General Admission Tickets for a One-Time Use
Parking Card
Private Behind the Scenes Tour
Guest Memberships can also be added to any individual or family membership. Limit one guest membership per individual/family membership. To purchase a guest membership, please visit the guest services desk or contact us at (404) 581-4000.
**Please consult a tax advisor for full details and restrictions.
Select Your Individual Memberships
Add To Cart
* If purchasing more than one membership, make sure to refer to our Family Membership package to discover additional savings.
Select Your Family Memberships
Add To Cart
* If purchasing more than one membership, make sure to refer to our Family Membership package to discover additional savings.
Select Your Land & Sea Memberships
(# of family members, 4 max)
Add To Cart
We recognize your extraordinary sacrifices
Military Membership All current and former members of the United States Armed Forces can save 20% on select Georgia Aquarium Memberships! To learn more and to purchase, please visit www.georgiaaquarium.org/militarymembers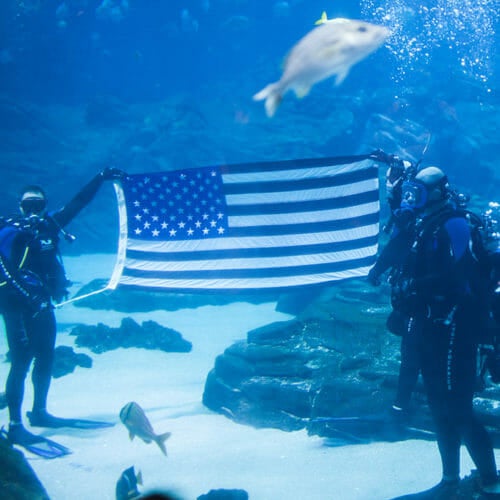 Be Among the First to See Us!
Enjoy your membership for one year from the date of purchase.

Visit any time with your membership ID card.

Bring your friends and purchase their General Admission at a 10% discount.
Get exclusive member-only discounts on Behind the Seas tours.
Get member pricing for Aquarium programs and events.
Get a member discount on our Journey with Gentle Giants swim/dive program.
Receive 20% off on Georgia Aquarium parking deck (a $2 savings at each visit).
Receive 10% off in the Gift Shop.
Receive 10% off Cafe Aquaria items.
Get up to $75 off groups of 15 or more for children's parties.
Enjoy discounts on Family Sleepovers and Camp H20.
From therapy for injured veterans to programming for students attending Title I schools, there are countless reasons to support Georgia Aquarium's Annual Fund.