Venture Under the Boardwalk
Theater Seats

500+

Splash Zone

1
Dive into the world of the charismatic California sea lion at Truist Pier 225! Learn, laugh and fall in love with the sea lions that call Georgia Aquarium home during our Under the Boardwalk presentation. During your time at Pier 225, you'll be transported to the coast of California for an up-close look at this incredible species. Trainers interact with these social pinnipeds while educating guests on the dangers they face in their natural environment, as well as key environmental factors that impact them.
Did You Know?
In March of 2015, an unusually high number of sea lion pups were stranded on California beaches during an Unusual Mortality Event (UME), a sad phenomenon reaching a record-breaking high. Georgia Aquarium made a home for two pups from this UME, rescued by the National Oceanic and Atmospheric Administration (NOAA) that were deemed non-releasable. These two pups were named Jupiter and Neptune by Georgia Aquarium's fans, and they serve as sea lion ambassadors to educate the public about the species' challenges. Jupiter and Neptune joined four other rescued sea lions in Truist Pier 225.
presented by:

New Pier 225 Arcade!
---
Photo Kiosk
An interactive touchscreen that allows you to choose between several different species of pinnipeds that you can get your photo with. Once a species is chosen, get into place and watch as that species swims into the frame and poses for photos with you. The photo can then be sent via text or email to you for free!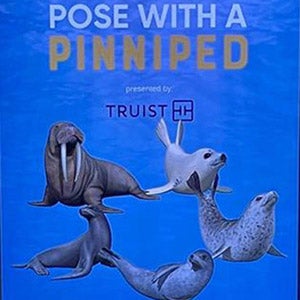 ---
Arcade Games
Play some fun, fast and educational interactive arcade games! Choose between Sea Lion Race Game where you can navigate a seal or sea lion through different perils they face in their natural habitat, Pinniped Rescue: A Vet Adventure where you choose between actual former patients of the Marine Mammal Center and treat their various aliments and injuries or Lulu the Magnificent where Lulu the Pelican has taken residence in an old Zoltar fortune telling booth and now gives visitors mystical conversation facts.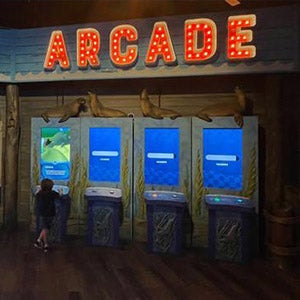 ---
Music and Animatronics
Jam to popular surf shop music of the 80's and 90's as you explore the arcade. Enjoy our custom-made animatronics that were created by Jim Henson Studios, creators of the Muppets! Watch our new friends Sully the Seagull kick start the days radio program, the Cleaner Shrimp get into the tunes with their dance moves and singing and Lulu the Pelican enjoy their new home at Pier 225.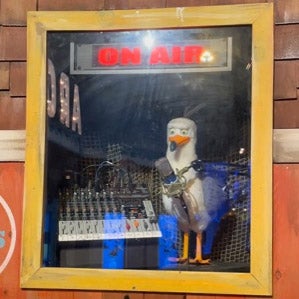 California sea lions' whiskers can detect vibrations under water.
Experiences
Get More Out of Your Visit
Jump in on a wide variety of experiences and events that will make your trip to Georgia Aquarium even more memorable.