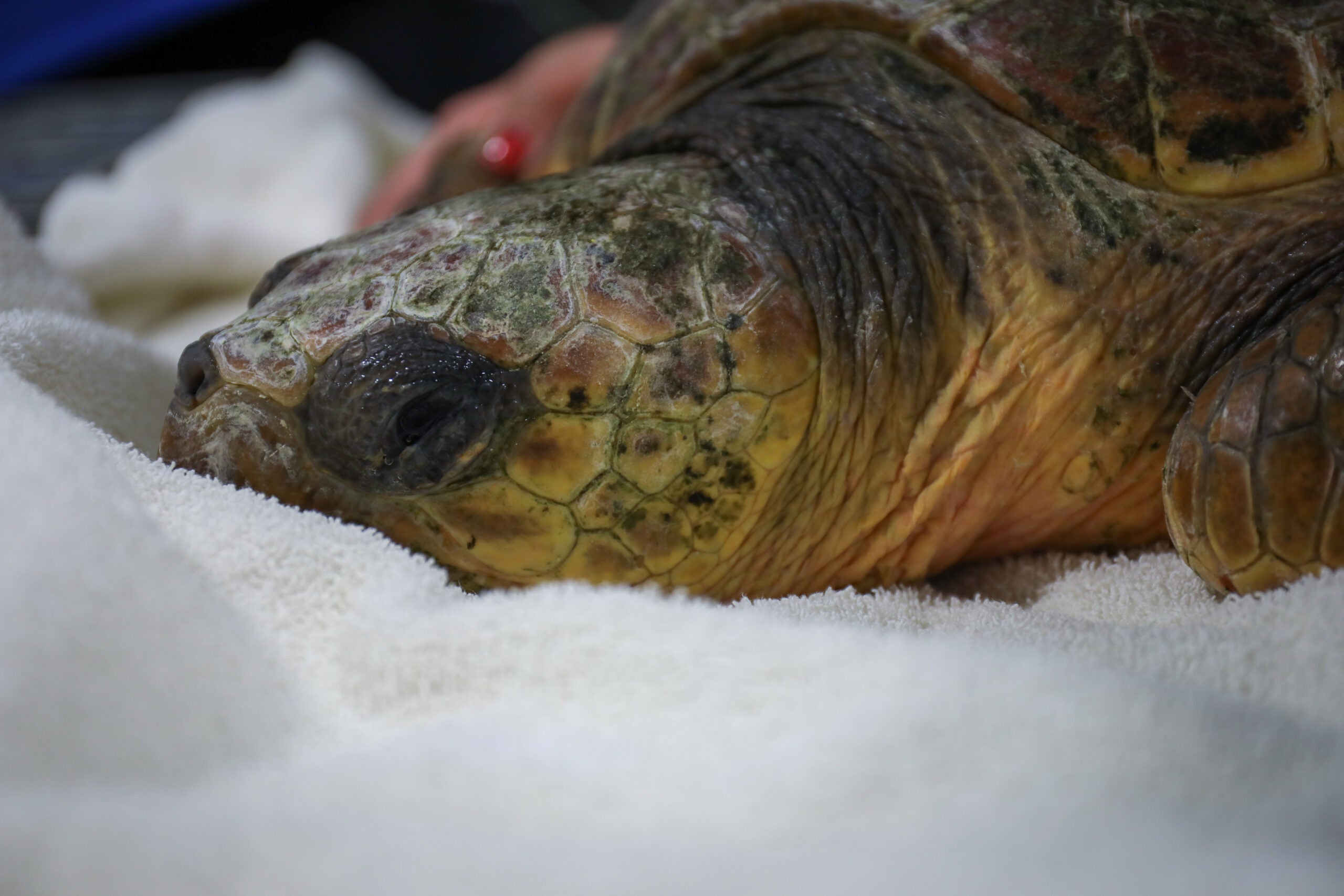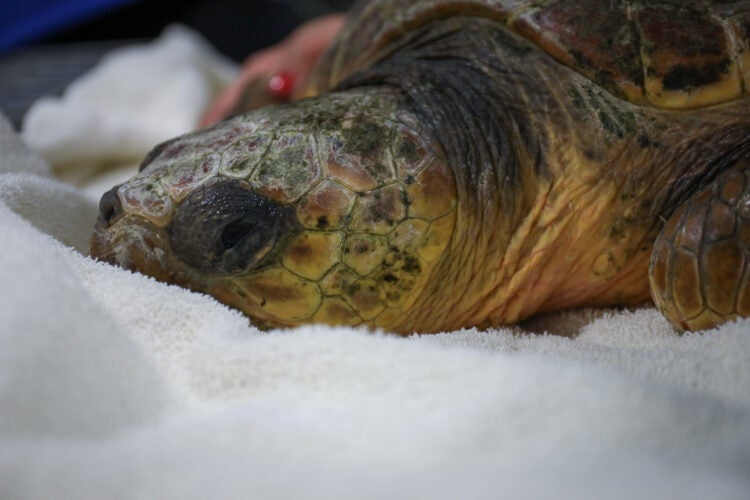 Conservation & Research
ATLANTA (February 1, 2023) – Over the past couple of weeks, Georgia Aquarium welcomed 11 cold-stunned sea turtles to their off-site care facility for temporary care and housing. Four of these turtles are loggerheads, an endangered species under the U.S. Endangered Species Act (ESA). The other seven, Kemp's ridley sea turtles, are also an endangered species under the ESA and is the smallest sea turtle species in the world. All 11 turtles were rescued off the coast of New England after they were found suffering from cold-stunning – a condition in which sea turtles become weak and inactive from exposure to cold temperatures.
Along with the National Oceanic and Atmospheric Administration (NOAA), the Aquarium comes together to help sea turtles during cold-stunning events. In the cold weather months, NOAA actively plans for cold-stunning events to organize and deploy resources to look for, and assist cold-stunned turtles. Georgia Aquarium is part of this multi-institutional effort alongside other zoos, aquariums, and rescue organizations to save hundreds of turtles each year.
How did these rescued sea turtles make it to Georgia all the way from New England?
Turtles Fly Too is an organization made up of pilots that aid in coordinating and facilitating large-scale relocation efforts for endangered species. They donate their time, aircrafts, and resources to fly cold-stunned sea turtles to zoos and aquariums for treatment and care until they can return to the ocean. The pilots and volunteers at Turtles Fly Too are crucial in ensuring safe transport for these animals.
Georgia Aquarium's team of expert aquarists and veterinarians performed an initial exam on the turtles upon their arrival. Two of the loggerhead sea turtles received CAT scans at BluePearl Pet Hospital as part of preventative care. BluePearl is a network of veterinary hospitals across the country and has several locations in Atlanta. The Aquarium partners with them to utilize their advanced imaging systems in situations such as these, for large or unique animals. BluePearl generously donated their time and resources to perform these scans, to ensure there are no underlying issues while the Aquarium handles the turtle's veterinary care.
- said Kristin Mathews, senior curator of animal acquisitions and quarantine at Georgia Aquarium.
Georgia Aquarium's animal teams will continue to monitor the turtles as they warm up, provide feedings and any additional veterinary care they may need until they are strong enough to be released. "Georgia Aquarium is proud to provide a home and care for these cold-stunned sea turtles with the goal of eventual release back to the ocean," said Kristin Mathews, senior curator of animal acquisitions and quarantine at Georgia Aquarium. "Without our help, these animals face worsening conditions which can lead to death. It is crucial that we do our part to save these endangered species."
The Aquarium will work alongside NOAA to determine when these animals can be released back into the ocean. Until that time, Georgia Aquarium will provide a temporary home and critical care to these rescued animals.
This article was published on: February 1, 2023
###
ABOUT GEORGIA AQUARIUM
Georgia Aquarium is a leading 501(c)(3) non-profit organization located in Atlanta, Ga. that is Humane Certified by American Humane and accredited by the Alliance of Marine Mammal Parks and Aquariums and the Association of Zoos and Aquariums. Georgia Aquarium is committed to working on behalf of all marine life through education, preservation, exceptional animal care, and research across the globe. Georgia Aquarium continues its mission each day to inspire, educate, and entertain its millions of guests about the aquatic biodiversity throughout the world through its engaging exhibits and tens of thousands of animals across its eight major galleries.