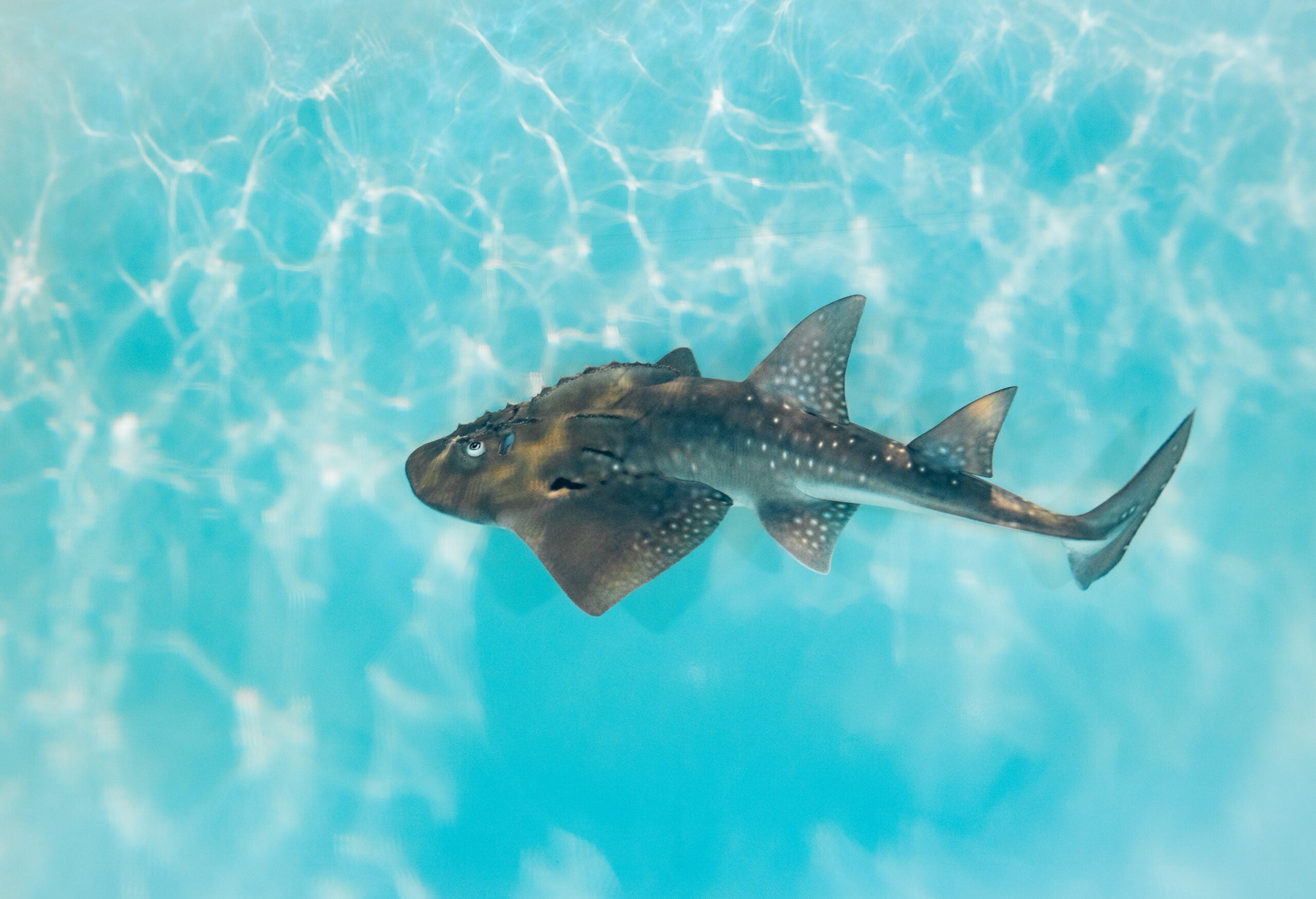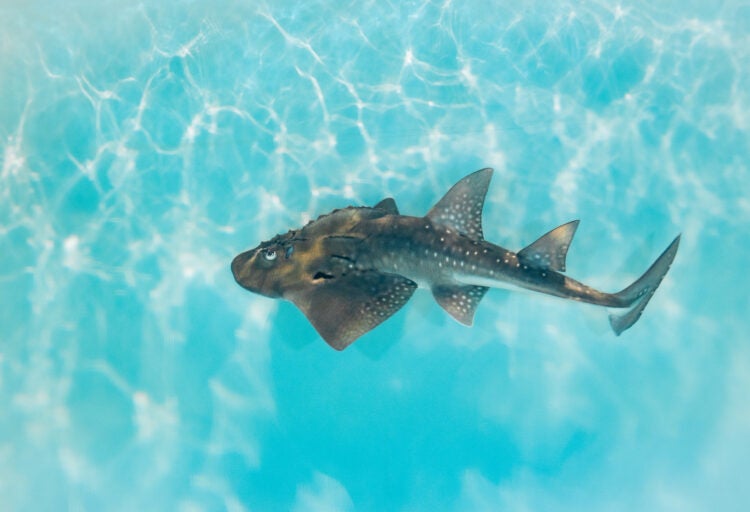 Animals & Exhibits
ATLANTA (July 21, 2023) – Georgia Aquarium is now home to three young critically endangered bowmouth guitarfish, born at a fish farm in Taiwan last summer.
Two male and one female pup came to Atlanta and are thriving in the Aquarium's off-site aquatic facility while they grow. Each is just over three feet long and weighs about 42 pounds.
"This is an extremely rare species, and thanks to our conservation partners in Taiwan we were able to bring them to Atlanta and contribute not only to their individual protection, but open up future conservation possibilities for reproduction of these endangered animals," said Chris Coco, senior director of aquatic sustainability at Georgia Aquarium. "These young guitarfish wouldn't be here without many people working together to protect them."
The pregnant female guitarfish was inadvertently caught in Taiwan in a fishing set net, which is anchored to the seabed to catch fish.
While listed as critically endangered by the International Union for Conservation of Nature (IUCN), the trade and consumption of this species are still legal. Online sales of bowmouth guitarfish "thorns," or bony head growths, for jewelry also is threatening the species. Single thorns are crafted into rings, while strips of the thorns are used for bracelets. Both are readily available on Facebook Marketplace and other online sites, according to a study published recently in Conservation Science and Practice.
Bowmouth guitarfish are visually striking animals and are sought after in the fish market trade. To protect these pups from being caught in the future, it was determined they should go to facilities that have experience caring for them and that could contribute to scientific understanding to help their dwindling population numbers through research.
Georgia Aquarium recently entered a 10-year research partnership with National Taiwan Ocean University and the Taiwan Fisheries Research Institute and offered to take in some of the rescued pups and provide them with safe homes. Three other accredited aquatic facilities in North America also are caring for some of the pups.
Three adult guitarfish currently live in Georgia Aquarium's massive Ocean Voyager habitat. For now, the pups will remain at the off-site care facility until they are large enough to move into Ocean Voyager. The species is rare in both the ocean and in aquariums, with fewer than 20 living in accredited zoological facilities in the United States.
Bowmouth guitarfish, also known as shark rays or mud skates, are a unique sight. They resemble a ray and a shark, with a flat rounded head and multiple large fins that protrude from their bodies. Spiny ridges along their back and other areas sport sharp thorns. Their mouths are curved like a bow, and their body shape resembles the guitars for which they're named.
They're found in Indo-West Pacific (including the Red Sea) and around East Africa, Papua New Guinea, Japan, and Australia. In 2019, the IUCN listed the species as critically endangered, victims of habitat loss, pollution, and accidental bycatch of shrimp fishers. They're also killed frequently by dynamite fishing aimed at other species.
###
ABOUT GEORGIA AQUARIUM
Georgia Aquarium is a leading 501(c)(3) non-profit organization located in Atlanta, Ga. that is Humane Certified by American Humane and accredited by the Alliance of Marine Mammal Parks and Aquariums and the Association of Zoos and Aquariums. Georgia Aquarium is committed to working on behalf of all marine life through education, preservation, exceptional animal care, and research across the globe. Georgia Aquarium continues its mission each day to inspire, educate, and entertain its millions of guests about the aquatic biodiversity throughout the world through its engaging exhibits and tens of thousands of animals across its eight major galleries.