Animal Experiences
MAY 25, 2020 (ATLANTA) – A [not-so-little] bundle of joy has arrived at Georgia Aquarium. Whisper, a 20-year-old beluga whale at Georgia Aquarium gave birth to a calf at 3:17 p.m. on Sunday, May 17, 2020. Whisper's calf weighed 174 pounds at birth and is five feet four inches in length.
"We are so proud of Whisper and overjoyed to welcome her calf to our Georgia Aquarium family," said Dennis Christen, senior director of zoological operations, mammals and birds at Georgia Aquarium. "We will be there right alongside the calf as it continues to grow and learn from Whisper."
Whisper had a long labor, but with assistance from the Aquarium's animal care and health teams she delivered her calf. Both Whisper and her calf are getting much needed rest and time to bond.
Georgia Aquarium's animal care and health teams are monitoring Whisper and her calf around-the-clock. There are still milestones ahead for the little whale over the next several weeks, which are crucial for its development and the bonding experience.
Dr. Tonya Clauss, vice president of animal and environmental health at Georgia Aquarium stated, "Our animal health team is continuing to monitor Whisper and her calf. The coming weeks are important for the calf's development and there are milestones to meet so we're giving mom and calf all the support and time they need."
Georgia Aquarium's other beluga whales, Qinu, Maple, Nunavik, and Imaq are all doing well. They are currently in a separate area of the exhibit and will be introduced to Whisper and her calf when it's appropriate.
"This birth is important not only for Georgia Aquarium, but all accredited zoological facilities. Our hope is to sustain the beluga whale population in North America so future generations can learn about them," said Eric Gaglione, vice president of zoological operations at Georgia Aquarium. "Throughout Whisper's pregnancy we tracked important data about beluga whale gestation that could hopefully make informed conservation decisions about belugas in the wild and their offspring."
The full birth story, behind-the-scenes moments, and some surprise details will air in an Animal Planet special on May 30, 2020 at 10 p.m. EST. Stay tuned to Georgia Aquarium's Facebook, Twitter, and Instagram for updates as the calf continues to grow.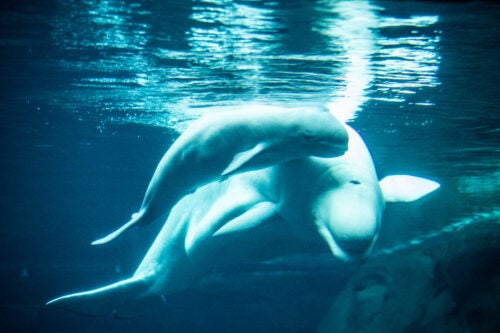 The Aquarium is currently closed to the public due to the COVID-19 pandemic. Once the Aquarium reopens there are numerous factors to consider before opening the beluga whale habitat for public viewing of Whisper and her calf. There may be periods when the calf is not visible, or the habitat is closed.
Assets for Download:
High-Res Images, click here.
High-Res B-Roll, click here.
Photo and video credit: Georgia Aquarium
To learn more about beluga whales visit Georgia Aquarium's Animal Guide. To learn more about Georgia Aquarium's beluga whale research and conservation efforts visit the website.
This article was published on: July 20, 2020
About Georgia Aquarium
Georgia Aquarium is a leading 501(c)(3) non-profit organization located in Atlanta, Ga. that is Certified Humane by the American Humane Association and accredited by the Alliance of Marine Mammal Parks and Aquariums and the Association of Zoos and Aquariums. Georgia Aquarium is committed to working on behalf of all marine life through education, preservation, exceptional animal care, and research across the globe. Georgia Aquarium continues its mission each day to inspire, educate, and entertain its millions of guests about the aquatic biodiversity throughout the world through its hundreds of exhibits and tens of thousands of animals across its seven major galleries. For more information, visit www.georgiaaquarium.org.