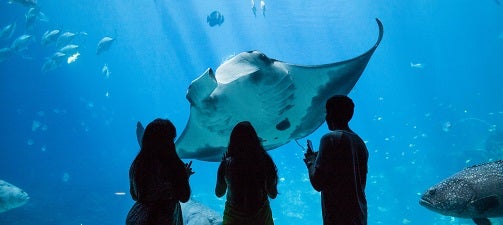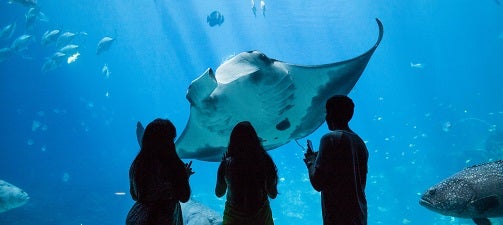 Back to Resource Center
Press Release
World's Leading Conservation Organization Advocates Critical Role of Aquariums, Zoos and Botanic Gardens for Species Survival
Conservation & Research
ATLANTA (October 11, 2023) – Center for Species Survival at Georgia Aquarium is one of just five in the United States
As sharks, rays and other wildlife populations plummet worldwide and biodiversity is lost at catastrophic rates, the world's largest conservation organization, the International Union for Conservation of Nature's Species Survival Commission (IUCN SSC), released a clear message globally on October 11: Aquariums, zoos and botanic gardens are critical conservation partners, and their role should not be under-valued, under-recognized, or misunderstood.
During a press conference in San Diego, IUCN SSC released a new position statement about the critical role of zoological facilities, while also announcing the most recent Center for Species Survival focused on biodiversity biobanking.
Georgia Aquarium is one of a handful of Centers for Species Survival (CSS) in the United States. Through the partnership, the Aquarium contributes extensive expertise in marine sciences to evaluate and assess marine species at greatest risk of extinction, while contributing to conservation solutions.
"Georgia Aquarium has been at the forefront of aquatic science for years. Through the CSS partnership, we contribute and collaborate globally with a goal of reversing the staggering decline in wildlife and plant diversity," said Dr. Alistair Dove, Vice President of Science and Education at Georgia Aquarium. "IUCN's new position statement makes clear the critical role of aquariums and zoos in global conservation and is a call to action for greater collaboration to save species from decline."
Georgia Aquarium recently participated in the Global Shark Trends Project, a multi-year assessment of extinction risk for 1,250 species of sharks, rays and chimaeras. The startling conclusion is that these species have declined 71 percent in the last 50 years. With the current rate of extinction estimated at three species every hour, global collaboration for species survival is more urgent than ever.
"For too long species conservation efforts have been siloed and focused at the project level, often with expertise and activities segregated between wild populations and those in human care. This position statement highlights that many botanic gardens, aquariums and zoos around the world are critical partners in species survival and in connecting with communities to inspire further action," said Kira Mileham, director of strategic partnerships, IUCN Species Survival Commission. "It is past time that we recognize the roles that leading botanic gardens, aquariums and zoos play in saving species, that we encourage those who are not yet fulfilling these roles to do so and that we work as one united species conservation community. Only then will we succeed in halting extinctions and recovering populations of plants, animals and fungi around the world to ensure a shared future for us all."
Georgia Aquarium conducts conservation work worldwide. One current project involves the reintroduction of endangered zebra sharks to their home range in Raja Ampat, West Papua, Indonesia. Other conservation science efforts include whale shark research, coral rescue and recovery, manatee rehabilitation and more.
While Georgia Aquarium is a hub for marine ecosystems, other Centers within the United States include the Global Center for Species Survival (GCSS), based at the Indianapolis Zoo in Indiana, the CSS: New Mexico at ABQ Biopark focused on freshwater fish, pollinators and medicinal plants, CSS: Freshwater based at Shedd Aquarium in Chicago, CSS: Trees based at The Morton Arboretum near Chicago, and the newest CSS: Biodiversity Biobanking based at San Diego Zoo Wildlife Alliance. Twelve other Centers have been established around the world with more on the way.
To learn more about the Center for Species Survival at Georgia Aquarium,  visit https://www.georgiaaquarium.org/international-union-for-the-conservation-of-nature-iucn/
To review IUCN's new position statement on zoos, aquariums and botanic gardens, click here.
###
ABOUT GEORGIA AQUARIUM
Georgia Aquarium is a leading 501(c)(3) non-profit organization located in Atlanta, Ga. that is Humane Certified by American Humane and accredited by the Alliance of Marine Mammal Parks and Aquariums and the Association of Zoos and Aquariums. Georgia Aquarium is committed to working on behalf of all marine life through education, preservation, exceptional animal care, and research across the globe. Georgia Aquarium continues its mission each day to inspire, educate, and entertain its millions of guests about the aquatic biodiversity throughout the world through its engaging exhibits and tens of thousands of animals across its eight major galleries.